Storm Door Features
Storm Doors Features - Storm Door Beauty
Color Matched Closer
Seamless Color
ProVia color-matched dual closers work smoothly, match the color of your door perfectly.
Give your door a unified look with these closers.
Brass Expander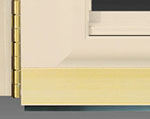 Functional Beauty
Spectrum Storm Door's 1 1/2" brass-look bottom expander gives your door an added touch of shine and comes standard on all Spectrum doors.
Piano Hinge
Holding It Together With Style
Spectrum Storm Door's Classic Piano Hinge has the shine of Bright Brass that enhances the overall appearance of your door.
Color-Matched Expander
The Sophistication Of Uniform Color
ProVia's color-matched bottom expanders complement the color of any Decorator Storm Door frame, giving it a cohesive look.
Leaf Hinges
Keep Your Door's Color Consistent
Some Storm Doors come standard with color-matched leaf hinges with brass bushings.
Bottom Expandable Sweep
Maintain A Custom Fit
Deluxe Storm Doors' double seal bottom sweep allows adjustment for a snug fit.
Invent Screen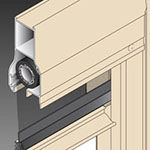 Don't Struggle With Your Screens
Changing out your storm door screens for glass isn't a hassle with our InVent Retractable Screen System.
Spectrum Screens are stored right inside the frame.
Freedom Pet Door
Factory Installed
Available on Flush Doors Only
Solid aluminum construction with locking panel
Soft single flap for tight weather seal
Also available on entry doors
Medium 8 1⁄8" x 11 3⁄4" opening for pets up to 40 lbs.
Large 10 1⁄8" x 15 3⁄4" opening for pets up to 100 lbs.