Marvin Window and Door Shades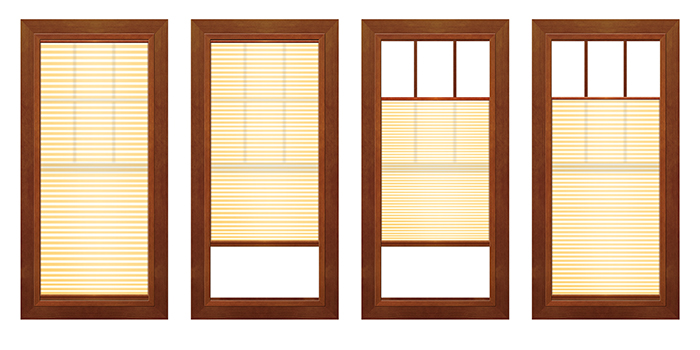 Fully Integrated Interior Shades for Marvin Windows & Doors

Watch this video on Marvin Window and Door Shades
Marvin Shades are fully integrated, matching any current Marvin interior finish, appearing as a seamless part of the window or door. Functionally graceful, there are no visible cords or pulleys. The fit is precise with virtually no light bleed. Add beauty and functionality to your home with Marvin Shades.
Shades are both incredibly functional and positively stylish. The fabric used in Marvin shades is extremely durable and will hold its pleat through normal use. All 15 colors are available with light-filtering fabric (allows some light in) with five options also available in blackout fabric (eliminates light completely). We offer a 10-year warranty on all fabrics.
Fully integrated shades can change the way you see a room.
Shades come standard with features and benefits that impress and inspire:
An integrated system, handcrafted to match any current Marvin interior finish
A precise fit around the edges, virtually eliminating light bleed
A matching stack cover option is available to hide shades when not in use
No visible cords or pulleys for a very clean aesthetic
Window can be operated without opening the shades
Designed to not interfere with hardware on windows and doors
One-stop shop: choose shades when you choose windows or doors
No need to measure for installation as Marvin provides measurements
Products Compatible with Shades
Windows:
Next Generation Ultimate Double Hung
Ultimate Double Hung
Ultimate Double Hung Magnum
Ultimate Replacement Casement
Ultimate Casement
Ultimate Replacement Awning
Ultimate Awning*
Direct Glaze (rectangular)
Doors:
Sliding Patio Door
Ultimate Sliding French Door
Ultimate Swinging French Door
*Top-down/bottom-up functioning shades are available for Ultimate Awning Windows
Ask your sales representative for the details on all the Window and Door Shades possibilities.