Marvin Sliding French Doors
Sliding French Doors
Enjoy the elegance and upscale look of a traditional French door in a space-saving sliding design. Custom-built to match your exact opening and home décor, Marvin's Ultimate Sliding French doors are thoughtfully designed with extra-wide stiles, tall bottom rails and smooth top-sliding screens for effortless use and enhanced energy efficiency. With 19 clad color varieties, it's easy to find a French door that speaks to your home's style.
Standard Features
Tempered, Low Ē² with argon insulating glass
Available in StormPlĒus for coastal regions IZ2 and IZ3
Multi-point locking system with Satin Taupe handle
Available design choices include raised and flat panels
Bare wood interior
Extruded aluminum clad exterior (clad units)
All-wood brick mould casing (wood units)
Oak liner on beige Ultrex® sill
4 9/16" jambs
DP40 performance rating

XOX Sliding French Doors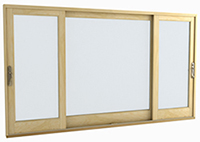 The XOX Sliding French Door positions a fixed glass panel between two operating door panels. Spanning an opening as large as sixteen feet wide by eight feet high, the doors occupy both sides of the center panel and meet in the middle when doors are open.
This elegant symmetry can complement either traditional or contemporary design.
Standard Features
Operating door panels are standard tempered, Low E2 insulating glass
Center panel insulating glass uses two sheets of 3/16" tempered glass or two sheets of 1/4 tempered glass, subject to size guidelines
Jamb depth: 5 9/16"
Doors with keyed handle sets are keyed alike.
Operating panels ship separate
The XOX door has not been performance-rated.
Ask your sales representative for the details on all the Sliding French Door possibilities.